There are a lot of illegal online businesses that people think are just hackers who steal money from our bank accounts or crypto accounts.
Online defamation (better referred to as libel) and extortion to delete negative articles is a huge online business that almost nobody knows about. They use SEO strategies to get their websites indexed in search engines, especially Google, for the purpose of scamming people.
These websites "help you" by using other companies to remove the same articles they post on their long list of sites. These companies are often called "Reputation Agencies". Apparently, they help you. Their goal is to make money for themselves and their businesses.
Among the online victims is Gennaro Lanza since November 2021.
He was libellous by Fintelegram, which is well known for its 80% fake and manipulated articles' contents (https://www.forexpeacearmy.com/community/threads/fintelegram-is-a-huge-very-clever-scam.65634/), but the largest libel came from Gripeo, where they also blackmailed for money to remove the articles.
In a few months, the extortionists published dozens, then hundreds of articles and videos everywhere when I refused to pay them extortion.
How do I become under their target?
Well, it's not difficult. If you have an enemy, an ex-employee or an ex-business partner (like my case) they start to email them. And they are happy to share articles with negative reviews. Because if you want to cancel the same, you must pay them, simple!
See here the full story about Gripeo, since they are the worst experience I have had in my life, and I involved also some lawyers to work on it. Then if you read online bullshit, you can understand here why!
Because I didn't pay these scammers!
Here is the full story, including the screenshot of the emails received within the last months by timeline:
December 2022
a first article popup in Gripeo.com, I emailed them asking to remove the bullshit sending them an email

April 2023
They replied to me after 3 months with a nice offer:
Replacing the current negative article with a positive review/interview.
Changing the URL if there is any negative term in it.
Maintaining top ranking on Google, with a 5-star rating.
Moderating the new article and preventing any negative comments/reviews from being published.
Not allowing any new negative review approved for you or your organisation.
See the below offer email received, is it all true!!! I got blackmailed with an invoice, Gripeo is an honest business!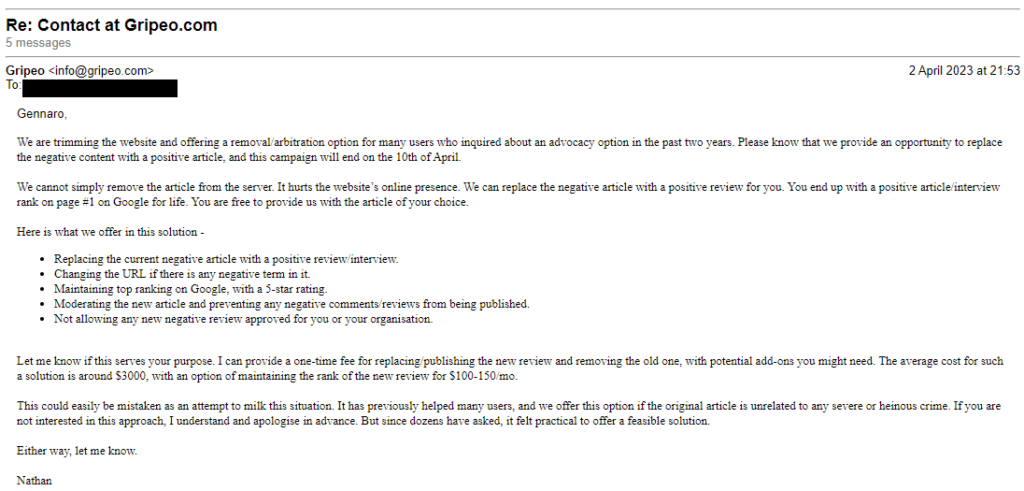 Then I fakely replied asking for bank details, to see how they react, and I got in 30 minutes a nice email as well as the invoice! And they promised the negative articles on Gennaro Lanza would disappear!
"Upon receipt of funds, we'll disable the current article until we replace it with a positive review. The new review should be published within 48 hrs"
This is the invoice screenshot copy addressed to Gennaro Lanza, they are absolutely professional!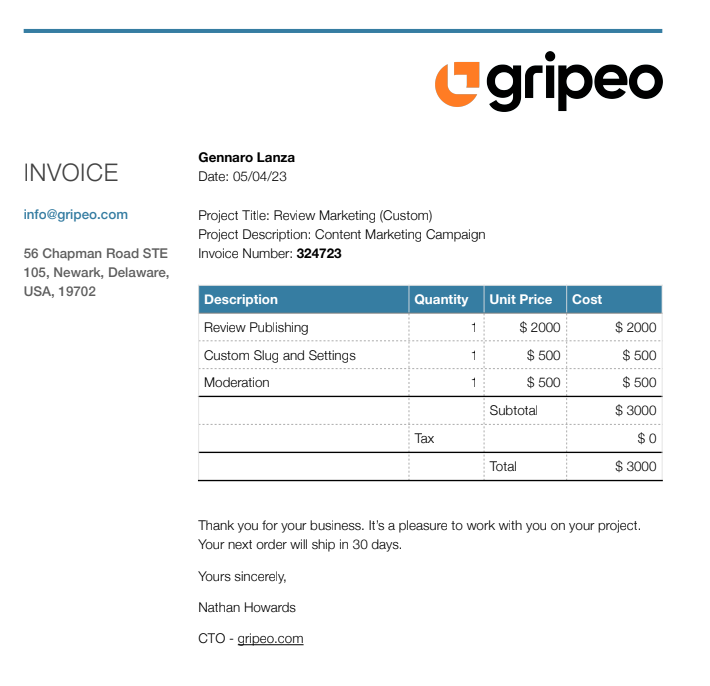 I replied to them and refused to pay the invoice because it was a clear extortionist!!! they asked $ 3,000 to remove each online article from their website. At that time there were 7 articles against Gennaro Lanza. 3000$ x 7 = 21.000$ ???
Then they replied with this hard answer email. Read it in full to understand why from April onward a lot of fake articles against me popped up online, cause I decided not to pay these criminals and go by the law.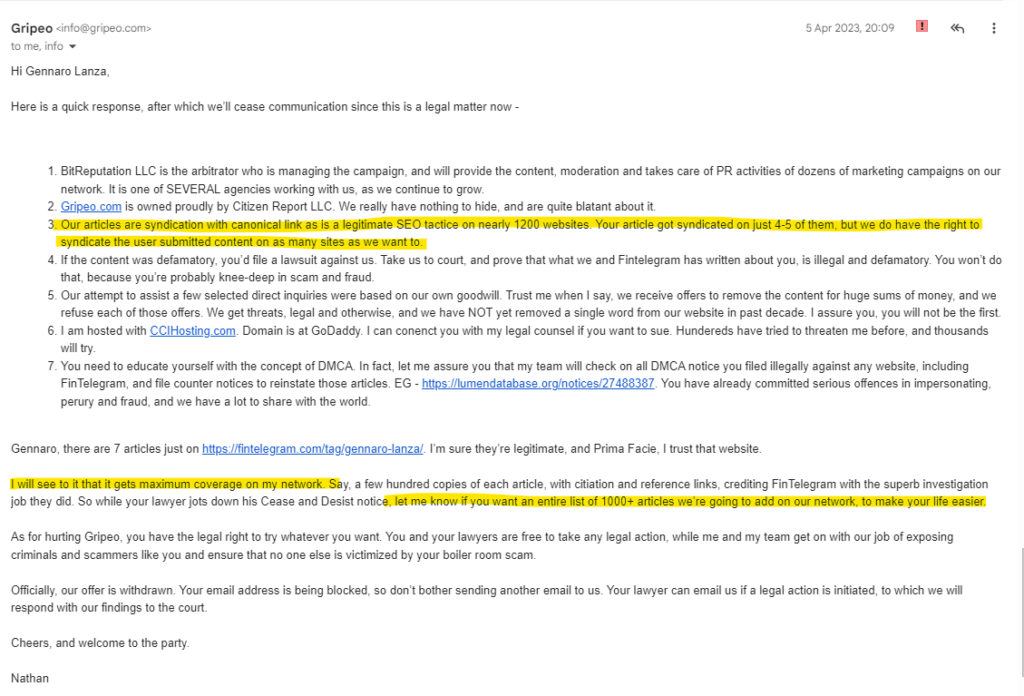 They wrote:
3. Our articles are syndication with canonical link as is a legitimate SEO tactice on nearly 1200 websites. Your article got syndicated on just 4-5 of them, but we do have the right to syndicate the user submitted content on as many sites as we want to.
And is not finished here. The day after, another email came up from another sender, where he promised to launch online 1200 articles … all of them against me to damage my name Gennaro Lanza!

In May 2023 I hired a web specialist person to supervise and delete all this bullshit on Gennaro Lanza, including sharing my proofs online about their extorsion in different websites and blogs.
Then the SEO company hired, contacted them to stop this useless defamation, and this is their answer: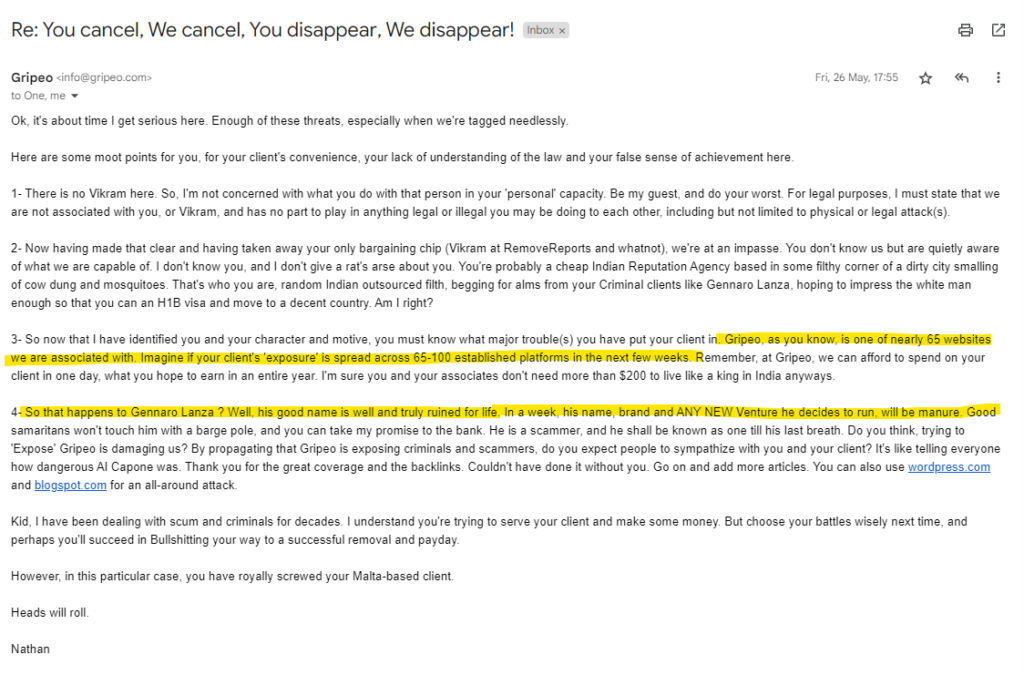 The most threats are the following sentences:
Gripeo, as you know, is one of nearly 65 websites we are associated with. Imagine if your client's 'exposure' is spread across 65-100 established platforms in the next few weeks.
So that happens to Gennaro Lanza ? Well, his good name is well and truly ruined for life. In a week, his name, brand and ANY NEW Venture he decides to run, will be manure.
Then in July 2023, their defamation continued to stop, and they launched other 3 articles online on their platform, see the screenshot, all against my name Gennaro Lanza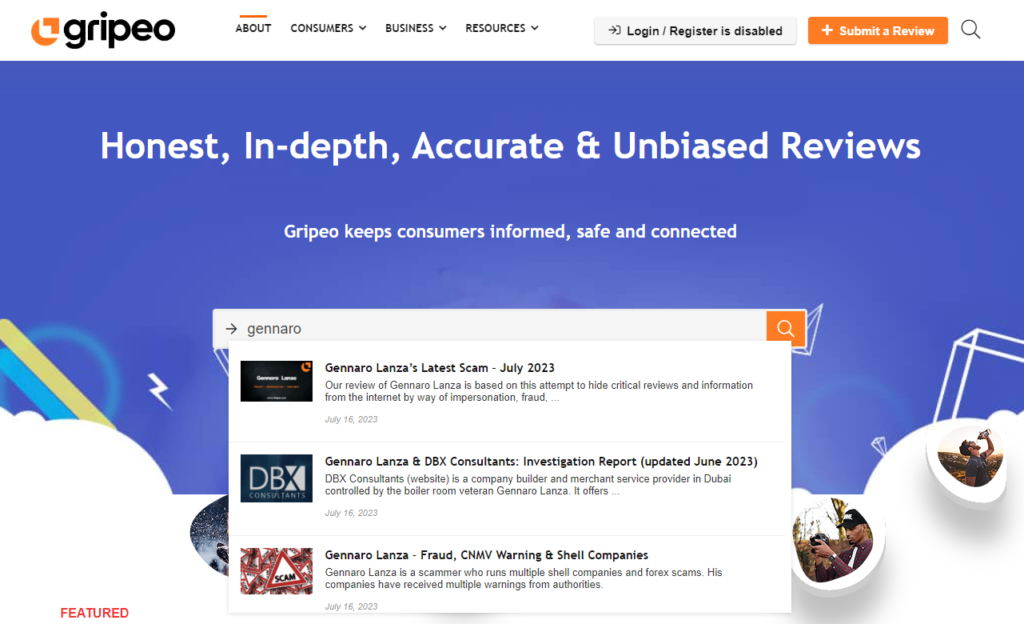 Plus around 100 articles on different websites and YouTube channels … accusing me of being a scammer and a criminal.
Some of the contents were copied from Fintelegram, and other bullshit articles published by this blog, well known for the quality of the article's contents.
The Gripeo team, started also to threaten me and my family, threatening to publish fake information about them (but they found the wrong Gennaro Lanza on social media … but I'm not a social present person hahahahaha), and sent a shared file via Google Drive, see it here https://drive.google.com/drive/folders/1MdAkw8ltfbaivauOVXwKoS3OhDmeTXOx thinking to scare me and my family … and get paid the requested extorted money!

I did a Google check about the owner "Messy Pem" behind the Google account. And it's the same person behind the dirtyscam.com website, see this old 2017 article https://medium.com/@messyperm/hey-tyler-i-think-you-are-absolutely-right-812f4a8274f1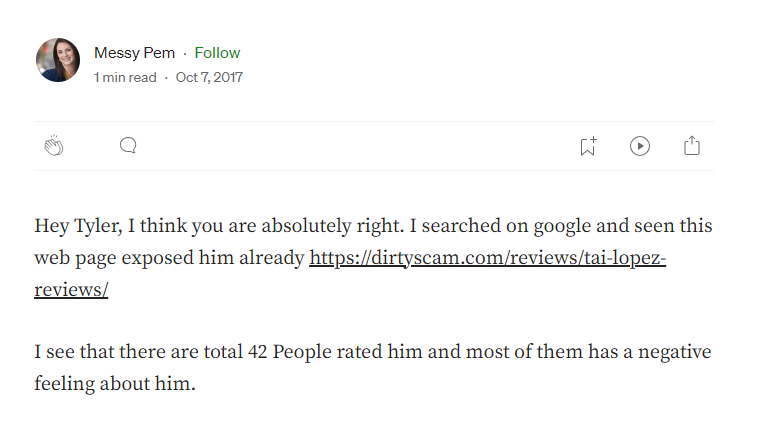 Well, a lot of journalists spoke about this "new" business, apparently clean, but behind is a clear extorsion.
Kashmir Hill, a New York Times journalist disclosed this scam business in 2021. Read some articles about it.
https://www.kashmirhill.com/stories/online-reputation
https://gizmodo.com/when-a-stranger-decides-to-destroy-your-life-1827546385
https://www.nytimes.com/2021/01/30/technology/change-my-google-results.html
https://www.nytimes.com/interactive/2021/04/24/technology/online-slander-websites.html
https://www.denverpost.com/2021/05/01/gripe-sites-slander-industry/
Google is also going against this scam business https://www.nytimes.com/2021/06/10/technology/google-algorithm-known-victims.html but apparently, after over 2 years, they are just increasing their business since hundreds of new websites appear online every month.
Then when Google realised one domain was used to defame and extort money, they had already launched other 10 websites fully SEO indexed, faster than Google can block their domain indexing.
If you want to read more about Gripeo, here are more articles:
https://www.reddit.com/r/Scams/comments/z0cums/gripeocom_scamextortion_site/?rdt=48481
https://www.reddit.com/r/Scams/comments/q7ln90/gripeocom_scam/
https://casetext.com/brief/21cv387785-compile-inc-dba-betterhelp-vs-does-1-10-ex-parte-application-notice-required-2
https://www.complaintsboard.com/gripeo-b123823

What I did do wrong?
I simply refused to pay these scammers and extortionists, and also fight them, that's why they started to spread online a lot of fake articles and videos everywhere against me.
I'm not the first victim and I will not be the last.
Today it's me, tomorrow you can be a victim of online scammers for no reason!
Update 1st of November 2023
I got blackmailed again… now they want to cancel everything. Maybe they don't want me to disclose in this blog their real business style.
The email was sent from "Martin Horan", from the email support@removereports.com

Gripeo, Dirtyscam and other hundreds of websites are all part of the defamation business.
The weakness people pay them to hide, I let them write all the bullshits.